This is the 94th Year of Joplin AAUW!
Below is a note from our Board President, Joplin AAUW 2019-2020:
As members, we have the opportunity to support education and equity for women through the Dorothea B. Hoover AAUW Scholarship Foundation Board, focused programs, and community support.  Our efforts with the Holiday Auction continue to fund an Endowed Scholarship through the MSSU Foundation and award a scholarship to a woman student at MSSU annually.  Our Finance, Education, and Leadership, keeps us informed about personal, state and national initiatives in each of these areas.  This year we focus on increasing membership to provide opportunities for new relationships, increased knowledge base, and enhanced community support.  I am excited about the potential we share as AAUW members and challenge each of our members to invite and welcome new members.  Thank you for your dedication and involvement.
___________________________________________________________________________________________________
Christmas Candle Lighting Ceremony 2019
Each December at our branch meeting, a candle lighting ceremony is conducted to recognize all the colleges/universities in which our local members have graduated.  During this year's ceremony 27 candles were lit.  As a college's/university's name is recognized, a candle is lit.  The degrees earned at these various colleges/universities range from associate, bachelor, master, and doctorate.
Amazing how much education has been bestowed on our wonderful members!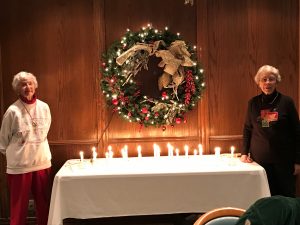 ________________________________________________________________________
The Ellis Sisters Present a Program on 18th Century Woman In Joplin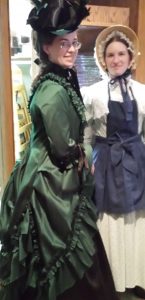 At our Branch meeting on October 19, 2019, the Ellis sisters gave a great presentation on the women in Joplin around 1870.  The attached picture illustrates how Joplin women dressed.  The fancy green dress on the left represents local women who were of a higher class in society.  This dress would have been worn at special functions and most likely would have been worn by the wife of a lawyer or doctor.  The dress on the right  represents a typical lower class working women.  This dress would have been worn by the wife of a farmer or mine worker.
The sisters personally make all of their dresses and do extensive research in the various periods of time in which they speak.
________________________________________________________________________