Spirit of Service Award 2018, Missouri Southern State University
Congratulations to Lorraine Whittington, a long time member of AAUW!  Lorraine recently received the Spirit of Service Award from Missouri Southern State University, Joplin, Missouri.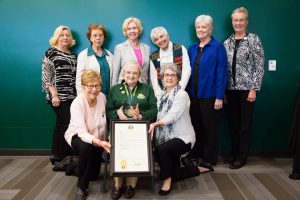 Lorraine Whittington, Joplin AAUW branch member was presented with the 2018 Spirit of Service Award.
She graduated from Missouri Southern in 1982 with a degree in business administration and joined Business and Professional Women, Inc. in the mid-1980s, obtaining the status of state president. She also joined Epsilon Sigma Alpha Women International and spent 50 years serving this organization.
Over the years, Whittington also has been involved with the American Association of University of Women, where she served as president of the Joplin branch for six years; the Joplin Women's Club, serving three years as president; Spiva Center for the Arts; and the MSSU Alumni Association.
University officials said Whittington has supported MSSU through donations to the Mission Hills mansion restoration project as well as the annual fund, and she helped start a holiday auction through the AAUW to raise funds for a scholarship to MSSU.