---
What is American Association of University Woman (AAUW)
American Association of University Women (AAUW) is a nationwide network of more than 170,000 members and donors, 1,000 branches, and 800 college/university institution partners. For 135 years, AAUW members have examined and taken positions on the fundamental issues of the day — educational, social, economic, and political. Our commitment to our mission is reflected in all aspects of our work.  Visit the National Website and the state website.
---
---
Welcome to the Joplin, MO Branch of the AAUW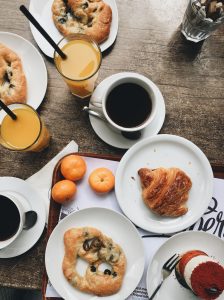 ATTEND A MEETING  
 The Joplin AAUW branch meeting location and times:
 Third Saturday of every month at Twin Hills Country Club at 10:00 a.m. September – May.  The November Meeting – Scholarship Fundraiser is held at First Presbyterian Church, 6th and Pearl, Joplin, Missouri
 The meeting consists of  brunch ($12.00), informative program with exciting speakers and business meeting.  
Reservations required: email  aauwjoplinbranch@gmail.com, if you are interested in attending a meeting or have additional questions.
---
Become a Member Today
————————————————————————————————————————————
2018 – Annual Missouri State Meeting and Conference
The AAUW MO Annual State Meeting and Conference was held Saturday, May 5 at the Holiday Inn Executive Center in Columbia, MO.  Members from around the state met
 AAUW CEO KIM CHURCHES and heard her speak about the future of AAUW. See a narrative and photos from the event.
———————————————————————————————————————————–
August 2018 News –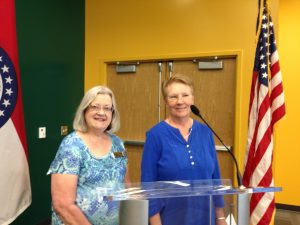 https://joplin-mo.aauw.net/2018/08/03/joplin-aauw-branch-hosts-candidate–at-/
Joplin AAUW Branch Host's Candidate Forum at Missouri Southern State University
The picture below shows the candidate panel.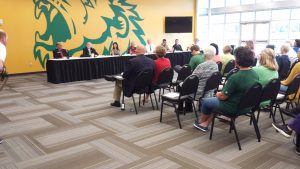 Anniversary News 2016 –
Joplin AAUW Celebrates 90 Years in Joplin
Click on the link above to read about AAUW history in Joplin.